You must have an email address on file to make an online payment. Please call 715-848-2792 to provide an email address if one is not on file.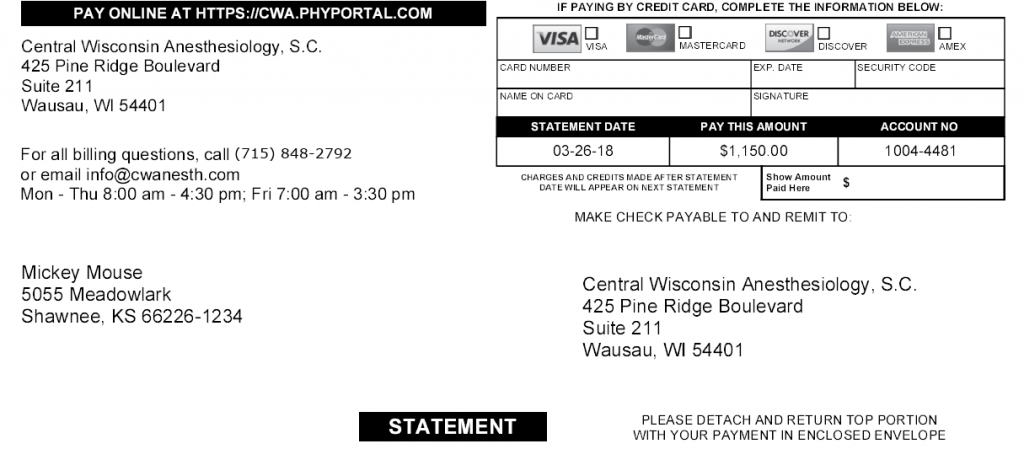 Our practice utilizes a team care approach on many cases, which incorporates a Board-Eligible or Board Certified Physician Anesthesiologist specializing in providing safe anesthesia care and a Certified Registered Nurse Anesthetist (CRNA), a specialized area of nursing. Both are an integral part of your anesthetic care. We bill for both the physician and CRNA in accordance with industry standards. You will receive a separate bill from the hospital or ambulatory surgery center for anesthesia related supplies.
We will bill all insurance companies and then provide a statement of your remaining financial responsibilities. We accept MasterCard, Visa, American Express, and Discover credit cards. For questions regarding your bill or insurance inquiries, please call us at 715-848-2792 or FAX 715-848-2884.
Insurance Filing
As a courtesy, we file a claim(s) directly to your insurance company. Remember your insurance policy is a contract between you and your insurance carrier and that you are ultimately responsible for all charges incurred. If you do not provide insurance information or inaccurate insurance information at the time of service, your claim may be denied for timely filing and the balance may be your responsibility to pay. Please be sure to inform us of all relevant insurance coverages including secondary or tertiary insurance to CWA.
You are responsible for co-payments, deductible, non-covered services and other health insurance plan limitations. We will bill you any balance due after your insurance company has paid your claim. There may be a delay if your insurance company has paid us incorrectly, and we have resubmitted your claim for a corrected payment and allowance determination.
Payment Obligations
All accounts are payable within 30 days after you receive your first statement. If you are unable to make payment in full, please contact us at 715-848-2792 to set up a payment plan.
| | | |
| --- | --- | --- |
| Account Balance | | Payment Arrangements |
| Less than $500* | | Paid in full within 6 months |
| Greater than $500 but less than $1,000 | | Paid in full within 12 months |
| Greater than $1,000 but less than $3,000 | | Paid in full within 18 months |
| Greater than $3,000 | | Paid in full within 24 months |
*Minimum payment is the greater of 10% of the balance or $50.00, unless a payment plan has been established.  Please call 715-848-2792 to set up a payment plan.
Liabilities and Disputed Claims
The responsible party is expected to settle any outstanding charges within 30 days. If you dispute the balance due, please contact your insurance company for clarification of your benefits. We will not re-bill your insurance without updated information.
Divorce Cases
The parent who brings the minor in for services will be considered the responsible party and will receive all billing statements and letters. Any court-ordered financial arrangement must be worked out between the parents of the child.
Bad Debt
Preserving and maintaining good credit should be important to you. If your account becomes delinquent we may use the services of a collection agency to assist us in collecting the balance, and this may have an adverse effect on your credit.
Non-Sufficient Funds
Any non-sufficient funds (NSF) charges incurred by Central Wisconsin Anesthesiology, SC will be billed to the patient.
Refund Policy
Any and all refunds due to a credit balance or an overpayment will be issued to the responsible party provided there are no other balances due and there are no charges pending with insurance. We will return your payment or issue you a check depending on how you made your initial payment.
Information Change
Please advise us of any address or phone number changes promptly.