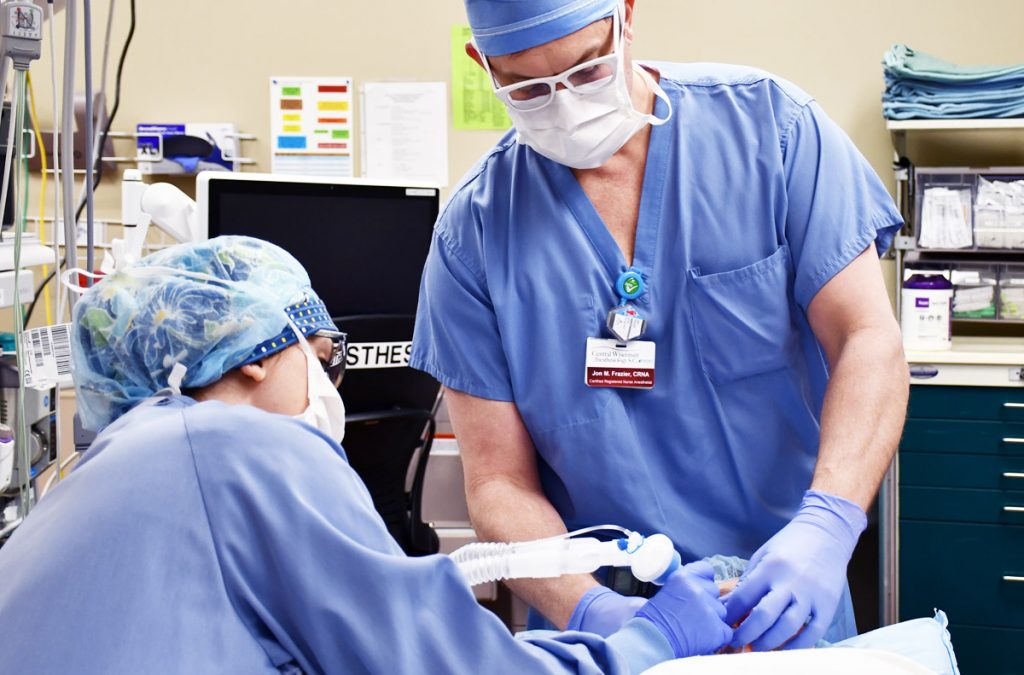 At Central Wisconsin Anesthesiology S.C, we maintain a rigorous patient focus throughout the surgical experience and tailor the highest quality anesthetic care to meet the needs of our customers and the community we serve; thereby maximizing quality, value and patient satisfaction.
Anesthesiology is the practice of medicine dedicated to the relief of pain and total care of the surgical patient, before, during, and after surgery. Central Wisconsin Anesthesiology, S.C. (CWA) is the largest medically-directed provider of anesthesia services in North Central Wisconsin and has been providing quality anesthesia services for patients since 1979 when Dr. Suzanne Low and Dr. Peter Koh established their independent practice. In 2019, we are celebrating 40 years of successful patient outcomes and outstanding provider relationships. Our entire staff includes 18 physicians, 31 CRNAs and nine administrative staff members–all dedicated to the delivery of excellent anesthesia to the providers and patients we serve throughout North Central Wisconsin.
Central Wisconsin Anesthesiology, S.C. provides anesthesia services at Aspirus Wausau Hospital, Bone and Joint Outpatient Surgery Center, Wausau Surgery Center, and Pine Ridge Surgery Center.
Our practice utilizes a team care approach which depends on knowledgeable, Board-Eligible and Board-Certified Physician Anesthesiologists specializing in safe anesthesia care medically directing and Certified Registered Nurse Anesthetists (CRNAs)—who are highly skilled and specifically trained in anesthesia. Both team members are an integral part of your anesthetic care.
A CRNA is a demanding specialty within the profession of nursing. CRNAs are anesthesia professionals who have acquired graduate level education with anesthetics.
The physician, with the assistance from a CRNA, is responsible for administering anesthesia to relieve pain and for managing vital life functions which include: breathing, heart rhythm and blood pressure during the surgical procedure.
The physician is responsible for the pre-anesthetic medical evaluation of the patient, prescription and implementation of the anesthesia plan, personal participation in the most demanding procedures of the plan (including induction and emergence), following the course of anesthesia administration at frequent intervals, remaining physically available for immediate treatment of emergencies and providing indicated post anesthesia care.
After surgery, the anesthesia providers maintain the patient in a comfortable state during the recovery process and can be involved in the provision of critical care in the intensive care unit.
CWA belongs to the Aspirus Network, Inc. (ANI). ANI is a clinically integrated network of leading primary and specialty care physicians, hospitals, and allied health care professionals. ANI negotiates contracts on behalf of its members with health plans and payors. It aligns all elements of the care continuum to advance quality and improvement efforts that produce better clinical outcomes, enhanced patient experiences and controlled costs. As a member of ANI, CWA has the opportunity to help identify and drive quality improvement initiatives, serve as advocates for healthier communities, and provide ongoing feedback on the network's strategic direction.